Mertex White Suffolks Stud History
Mertex White Suffolk Stud was Registered in 2012 with 6 Ewes being bought from the Detpa Grove Mated Ewe Sale in 2011
I have sense bought more ewes from mated ewe sales of Bundara Downs & Gemini. In 2013, I saw a good opportunity to buy some quality Ewes from the dispersal sale of the Burwood & Tapton Studs purchasing 30 ewes and again in 2016 at the dispersal of the Wheetelande Stud purchasing 14 ewes. Buying from stud dispersals allows you to buy in your mind the top genetics from the stud's flock to go with your breeding objectives.
Stud Sires Purchased or used via A.I programs have been selected on structural correctness, carcase attributes, breed type, growth and the individual animals scan data. Only one to two sires have been used each year to bring the stud into an even line of sheep. Stud sires have been bought from Wingamin and Detpa Grove, (Semen) Wingamin, Anna Villa, Rene, Wattle Park, Sunnybanks and Induro.
We've also been doing Embryo Transfer programmes to fast track the studs breeding from our elite ewes.
Mertex White Suffolks is a Lambplan recorded flock which is used as a minimal tool in breeding selections. I prefer my breeding selections to be from the animals own physical attributes, structural correctness, data and raw figures.
We also Stockscan all our sale rams.
Our Rams are bred to breed lambs with high yielding carcases and growth along with structural correctness, breed type and easy lambing. As prime lamb producers we know what puts $$$ in your pocket.
EXTRA  MEAT MEANS EXTRA PROFIT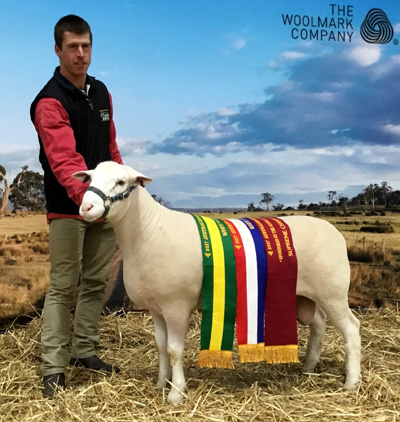 16-306 Supreme White Suffolk Grand Champion Ram – Senior Champion Ram 1st April Drop Ram – Australian Sheep Wool Show 2017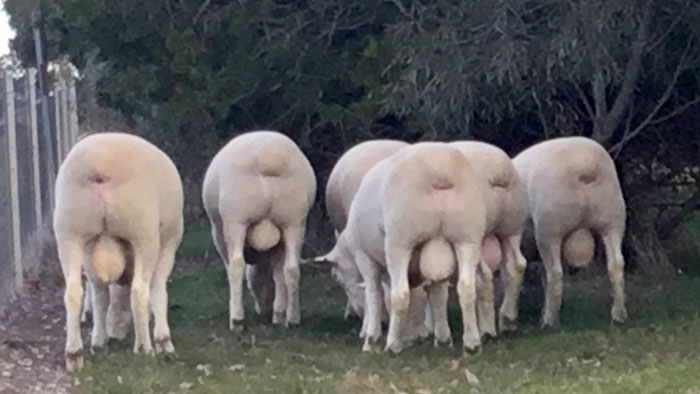 2016 Drop Show Rams