This year's sale will be interfaced with AuctionsPlus
Lot 1 – 220472Tw
(3rd June Drop Ram Sheepvention & 1st Senior Pair Rams Royal Adelaide)
DOB: 18 June | Sire: Mertex 210633 | Dam: Mertex 180429 Tw
SOD: Sunnybanks 160060 (Junior Champion Ram Royal Adelaide 2017)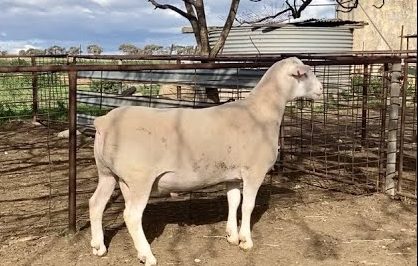 Mertex Texel & White Suffolk Stud
Mertex Texel & White Suffolk Stud is run on the Antwerp property alongside a cropping enterprise growing Barley, Wheat, Beans, Lupins and Vetch for grazing and hay. The Texel Stud was established in 1996 and now consists of 150 Stud Ewes. The White Suffolk Stud was registered in 2012 and now consists of 200 Stud Ewes.
The Stud Ewes main lambing is in June & July with a few White Suffolk Ewes lambed down in April/May and the White Suffolk Ewe Lambs lambing in August. Our breeding aims are to breed well structured sheep true to their breed type carrying excellent muscling attributes. To provide high quality flock rams into the prime lamb industry, and sound breeding stock to stud breeders. Mertex Texel & White Suffolk Studs are both Lambplan plan recorded flocks with all lambs weighed and tagged at birth. Our sale rams are also Stock Scanned in August.
At Mertex we also run a self-replacing composite ewe flock of 4000 ewes which consist of various percentages of Texel, East Friesian, White Suffolk and Samm for our prime lamb operation that is run on our Miga Lake and Charam properties. Ewes are lambed down in May/June. We also join our composite ewe lambs to lamb down in August/September. Sucker Lambs are sold from the middle of September onwards normally between 24kg to 28kg dressed weight.
We've had success in various prime lamb and carcase competitions over the years, in which we continue to have great success in the Royal Geelong Show prime lamb & carcase competition annually.
Our Rams are bred for structural correctness, growth and easy lambing to breed lambs with high yielding carcasses, growth and doing ability. As prime lamb producers we know what puts $$$ in your pocket.
EXTRA MEAT MEANS EXTRA PROFIT
We also breed Texel/White Suffolk X Rams, Texel/East Friesian X Rams and Texel/East Frisian/Border Leicester X Rams to use in our commercial ewe flock and to offer to our ram clienets annually.
Flock Rams For Private Selection from September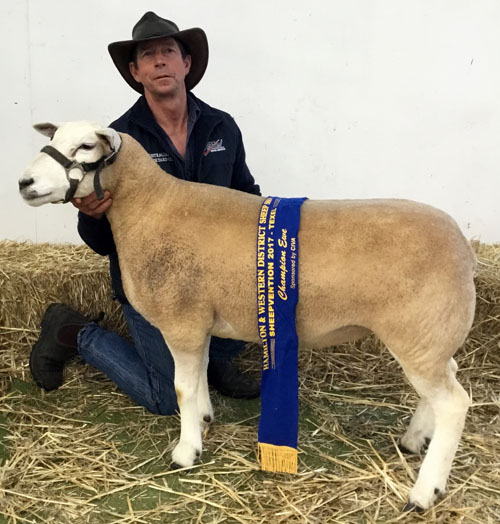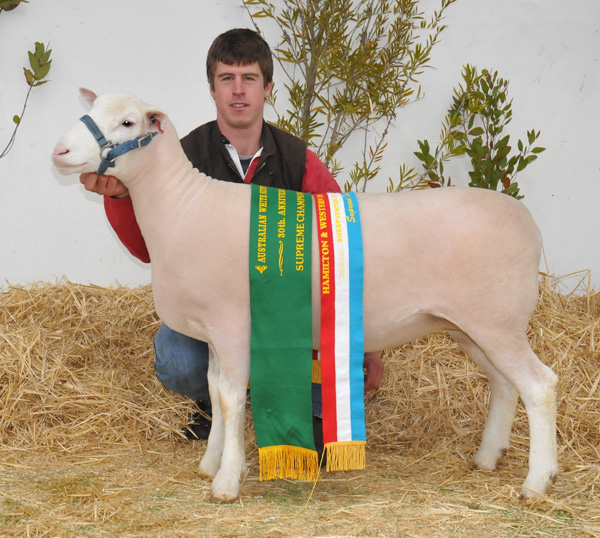 Latest News
Monika
Mertex White Suffolk ram average leaps to $1728 TOP RAM: Top priced ram at Mertex sale at $4100 with stud principal Tim Jorgensen, Antwerp. Photo courtesy West Wimmera Advocate. Original article by Alastair Dowie 28 Sep 2020, Stock & Land *85 of 85 White Suffolk rams sold to [...]
Monika
Farm Online, Gregor Heard  Oct 2019 - link to original article THE JORGENSEN family, principals of the northern Wimmera White Suffolk and Texel stud Mertex held their first on-farm ram sale last week and following strong results they are more than happyto make it an annual event. "We're thrilled with [...]
COME SEE US AT:
July 20th – 26nd 2019 – Australian Sheep & Wool Show – Bendigo
August 4th – 6th 2019 – Hamilton Sheepvention
September 2019 – Royal Adelaide Show
September 2019 – Bendigo Elite White Suffolk Show & Sale
2019 – Royal Geelong Show
Stud Rams & Ewes

Semen Available from Leading Stud Sires
Flock Rams For Private Selection from September

Texel | White Suffolk | Texel White Suffolk X | Texel East Friesian X | Texel East Friesian Border Leicester X
Enquiries always welcome