Mertex Texel & White Suffolk Studs Dominated at Hamilton Sheepvention's Short Wool Interbreed on Tuesday morning first winning the Interbreed Group of 1 Ram & 2 Ewes with their 13 month old Texel trio, praised for their evenness & true to breed carcase attributes. Giving the stud its 3rd win in 4 years with their Texel groups in the Interbreed. Mertex followed on by receiving 1st & 2nd place in the Short Wool Ewe Interbreed with their White Suffolk Ewe narrowly overcoming the Studs Texel Ewe. Giving Consecutive Supreme Interbreed Ewe wins for the Mertex White Suffolk winning Ballarat Sheep Show the previous Sunday.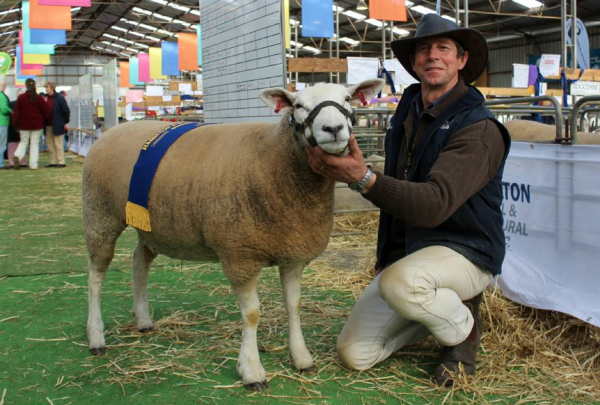 Mertex Stud Principals Tim, Basil & Heather Jorgensen were already on a high after Mondays judging winning Supreme White Suffolk Exhibit with their Champion White Suffolk Ewe who topped the strong 250 head 30th Anniversary Feature Breed White Suffolk line up. Mertex's 13 Month old Ewe was commended on her Fleshy Body, Structure, Skin Type & Femininity by SA Judge Andrew Michael.  The Judge also stated that any Ram would be proud to have the depth, width & length of loin as this Ewe. Tim Jorgensen said to win Supreme Exhibit at a Major Show in a Milestone year for the White Suffolk  breed only after 3 years of breeding is quite an achievement and a dream really, but assures my Eye and Passion for sheep breeding is paying off.
Mertex Texel's started off the Dream Sheepvention for 2015  for the Jorgensen family of Antwerp winning Champion Texel Ewe, Reserve Champion Texel Ram. The Group class of 1 Ram and 2 Ewes, Placing 1st & 2nd in the Sires Progeny Group and the Lamb Production Class. Mertex Texel's also took out Most Successful Exhibitor for the 3rd consecutive show this year after success at Bendigo and Ballarat in previous weeks.
The Jorgensen 's said its very satisfying to see all our hard work and dedication rewarded after last year's tough end to the season and this year so far.