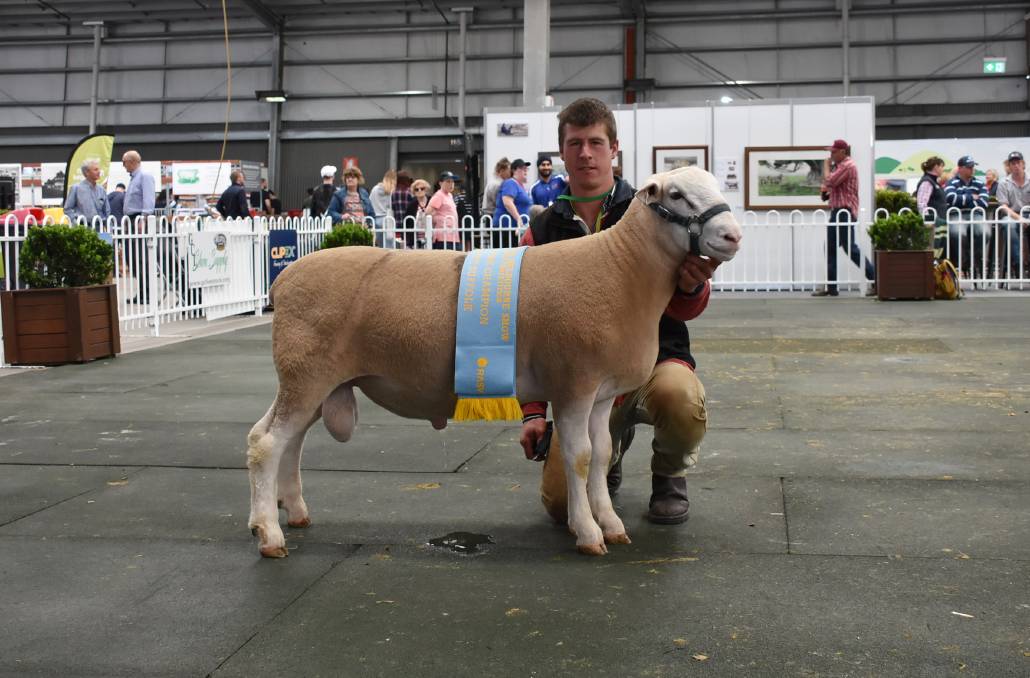 Published at The Wimmera Mail Time – link to original article
ANTWERP'S Mertex Texel and White Suffolk Stud took out all but one broad ribbon in the White Suffolk judging at the 2018 Royal Melbourne Show.
The Jorgensen family were attending their first Melbourne Royal, and ended up with a near clean sweep of the big awards.
This included supreme ram, champion ewe and most successful exhibitor.
With five ewes in the championship line up, and their grand champion ram going on to be supreme, it was clear that judge Will Milroy, Rangeview stud, Pipers River, Tasmania, was impressed with the carcase attributes of the Mertex sheep.
The grand champion and supreme White Suffolk ram was won by a 135.5 kilogram exhibit with 10 millimetres of fat, a muscle depth of 58mm and muscle width of 108mm.
Mr Milroy said the ram, an August 2017-drop, had fantastic muscling for its moderate shape, and was "chock full of meat".
Previously the ram was junior champion White Suffolk ram at both the Australian Sheep and Wool Show in Bendigo in July and Hamilton's Sheepvention in August.
Reserve champion ram went to the Prentice family of Kurralea stud, Ariah Park, NSW.
It was drawn from the pen of two rams under 1.5 years, and weighed 126.5kg with 9mm of fat, a 56mm muscle depth and 104mm muscle width.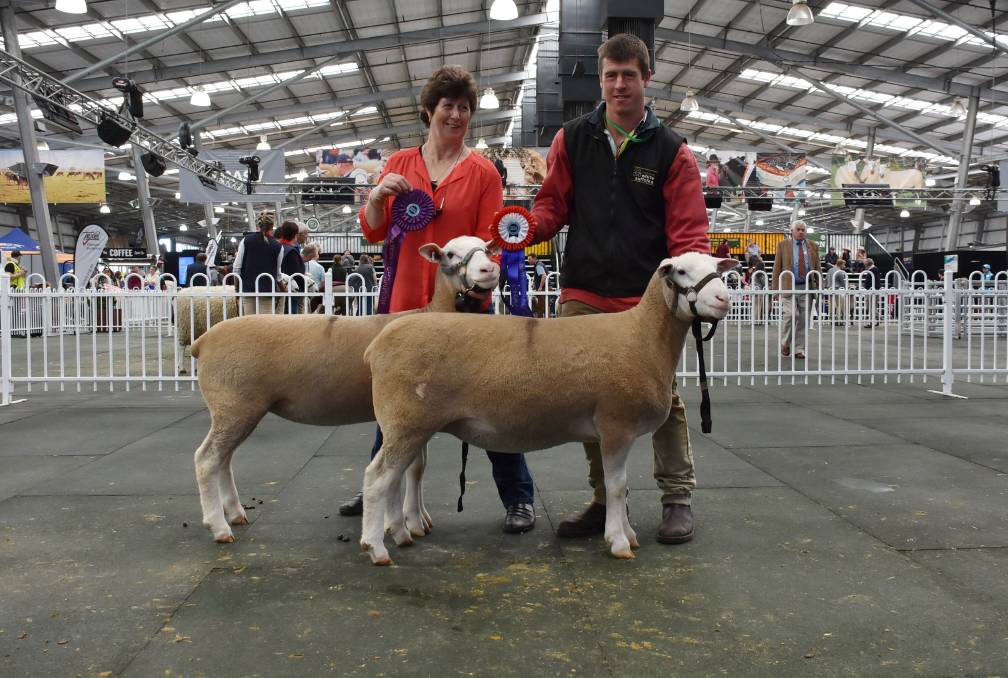 Mertex's supreme White Suffolk ram and its champion ewe were sired by the same Wingamin ram.
The ewe was under 1.5 years, weighed 110.5kg, had 12mm of fat and an eye muscle area of 44.8 square centimetres.
The judge described the champion ewe as "chock full of muscle" and having a "fantastic depth of body".
The reserve champion ewe was another Mertex exhibit and Mr Milroy said it was "a very stylish ewe that has got fantastic hind  quarter and muscling as well, and all those important traits you are looking for in a White Suffolk ewe".
Tim Jorgensen said the stud came to Melbourne for the first time to exhibit their Texels in the feature judging of the show, so brought their White Suffolks along as well and would be offering a ram in the sale on Monday.
He said they were focusing on meat attributes with good hind quarter and loins, as well as being a well balanced animal, which were all the traits judge Mr Milroy was looking for.
While the good season was rapidly fading at Antwerp, Mr Jorgensen said poor cropping seasons and the good lamb price had encouraged more farmers in the area to run more sheep.
"I think the price will stay high as there are not going to be many well finished lambs around – I don't think it will stay at $9-$10, but it will still be strong," he said.
"And people have spent a lot of money on feed to finish stock and hold onto stock because of the season, so they will need to be getting that sort of money to replenish the costs."