After an extremely successful year on the show circuit for Mertex Texel & White Suffolk Studs it has given stud principals Tim & Basil Jorgensen assurance they are heading in the right direction with their breeding. But scooping the pool in the Geelong Prime Lamb and Carcase Competitions is proof for Mertex that their rams and composite Ewe flock are at the top end in the industry with 10 to 16 week old suckers straight off of mum as that is where the money is, have won on the hoof and on the hook in all three categories.  If sold in the saleyards or over the hooks they still come out on top.
Mertex entered 6 pens of 3 lambs in the total of 40 pens entered and came away with 1st and 2nd in the 16kg to 19.9kg section in both the on hoof and on hook judging. Then in the 20kg to 23.9kg section came 1st and 3rd on the hoof and 1st and 2nd on the hook. The 24kg to 29.9kg section 1st on the hoof and 1st and 3rd on the hook. The Heavy Lambs were awarded champion pen of lambs on the hoof and the medium weights were champion pen of lambs on the hook. Mertex was also the most successful exhibitor in the prime lamb section with most points awarded on hoof and on the hook.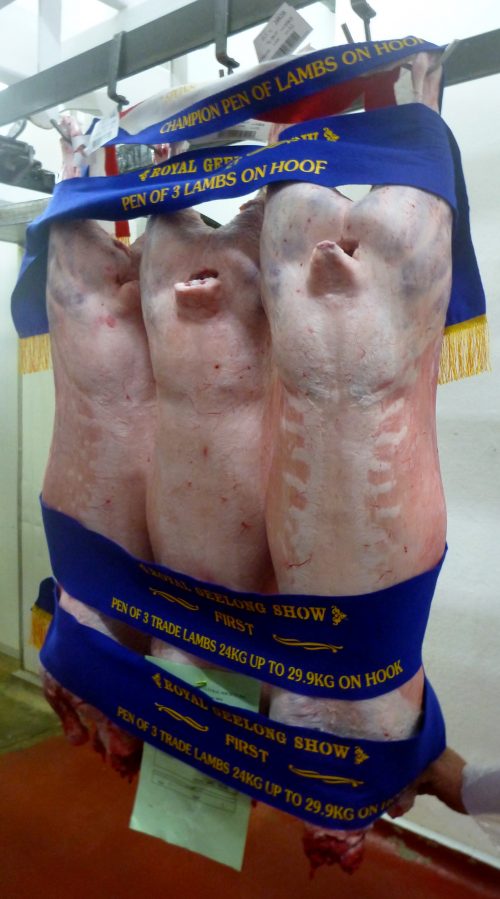 The Lambs were sired by Mertex Texel Rams and out of a mob of 2013 Drop Ewes consisting of ½ Texel, ¼ East Friesian, ¼ White Suffolk that were on their 2nd Lambing. It was like picking straws the drop of lambs were that good I just had to go by their weights at a 52% dress weight straight out the paddock and hoped they didn't go out of the class as you haven't got much room to move in the light and medium categories.
In the Stud Sheep Section Mertex was awarded Most Successful Exhibitor in the Feature Breed White Suffolk section, Champion Lamb, Reserve Champion Lamb & Reserve Champion Ewe. In the Texel Section Most Successful Exhibitor, Champion Ewe, Reserve Champion Ram & Reserve Champion Ewe, giving Mertex Most Successful Texel Exhibitor at all shows shown at in 2015.
Champion Pens Points
Legs: 9.5pts out of 10
Loins: 9.5pts out of 10
Forequarters: 9.5pts out of 10
Weight: 30pts out of 30
Colour/Bloom: 18pts out of 20
Fat Coverage/Distribution: 18pts out of 20
Total 94.5pts out of 100
All 6 pens scored 93pts and above out of 100